What makes Boulder Dental Arts the most trusted Boulder, Colorado dentist? Check below to learn all about the dental services we offer. Tempted to drop in and meet us? Schedule an appointment online!
All professional dental services Boulder Dental Arts provides:

Teeth whitening
Veneers
Dentures, partials, flippers
Dental implant restoration
CariVu Technology – NO radiation exposure!
UBER rides home – on us!
We take great pride in remaining on the cutting edge of dental technology.  Our philosophy is if there is something that exists that will improve your dental experience and outcome then we will get it.  Plus we love cool stuff.  Our office is equipped with a 3D CBCT scanner, which is capable of taking a 3D image of your teeth.  Traditional x-rays allow us to look in one plane, now we are finally visualizing your dental anatomy as it truly exists.  It is hard to appreciate just what a significant leap this is.
Planning on an implant?  We can see exactly how much bone you've got, and we can combine our CBCT with our digital scanner to create a surgical guide which gives us an exact placement.  Voids, defects, nerves, and hidden discrepancies that are invisible in 2D are now right before our eyes, and we can plan accordingly.  No more nasty surprises.
Tooth images can be spun around and sliced down as well. This means endodontic therapy becomes so much more predictable.  Each tooth is a snowflake, and yours may have more or fewer canals, or ones located in unexpected areas. We can slide down an image and see each and every canal, and know its position.This is like an iphone.
We were just fine before it existed, but now that we have it we can't live without it.
Microscope Dentistry
The most recent generations of dentistry have recognized the principle that visualization = better success.  If we can see what we are doing we can do a better job.  Logic, right?  This is why you often see dentists wearing magnifying loupes and headlamps.  Those allow us to view your teeth at 2-4x their size, which in turn allows for better dentistry.  The majority of endodontic specialists (and a few generalists) have invested in microscope technology, which allows us to now work comfortably at up to 12 times magnification.
This represents a dramatic increase in my ability to perform the highest quality dentistry.  If you want to know how this feels for me, try drawing a picture of a butterfly on a marble.  Ok, now do it on a golf ball. Ok, now draw a giant butterfly on a beach ball. Which do you think is easiest and will have the most detail? Surely the beachball butterfly!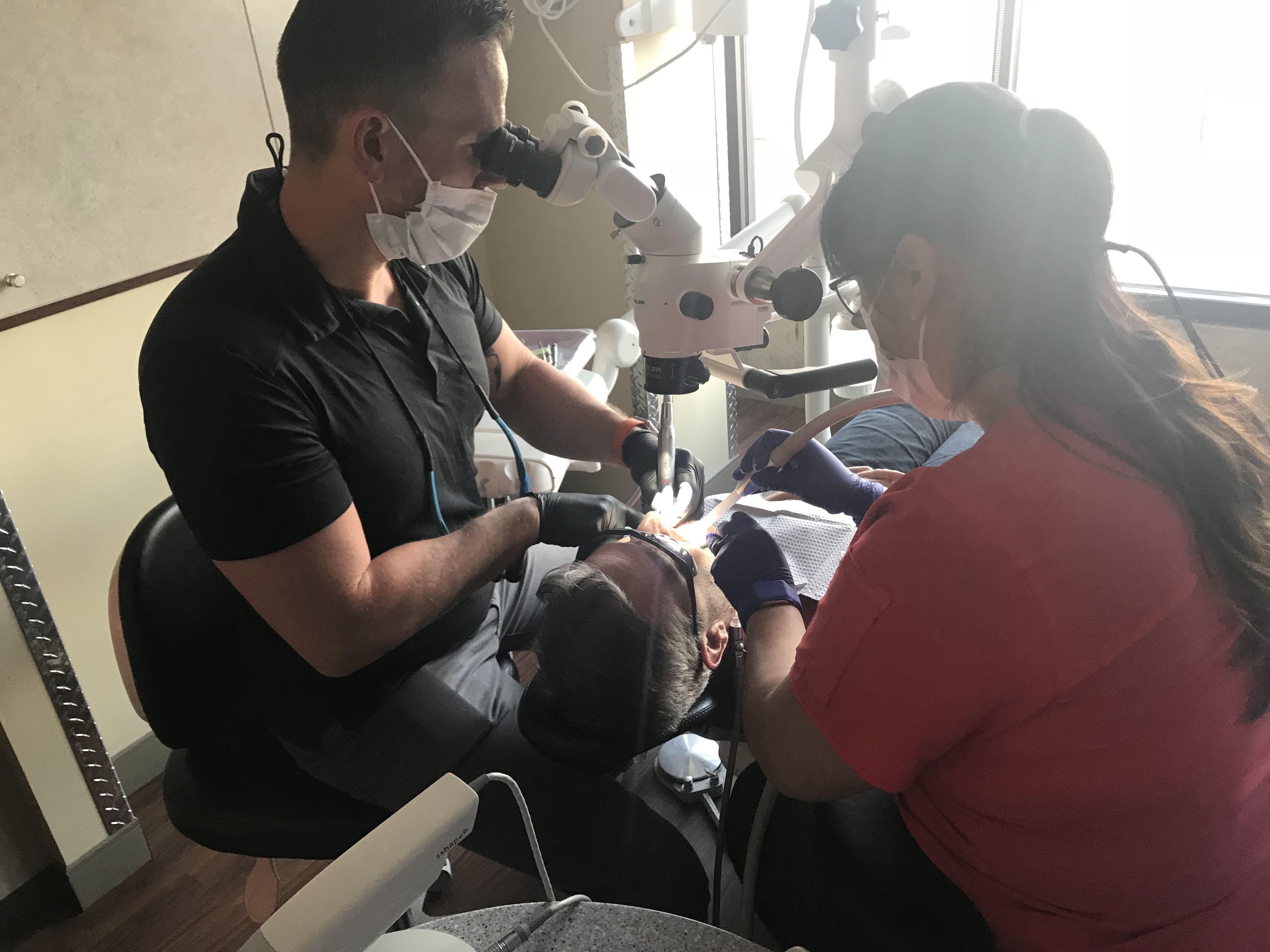 There are many occasions where it is good to embrace the Old Ways.  Making a wood table or sourdough bread are examples.  Dentistry is not.  If you have had a crown or nightguard made you are familiar with a technique that involves a lot of goop and mess.  That goop is an impression material that makes a pretty good replica of your teeth, which is mailed to a lab and poured in stone and eventually a crown is made that hopefully fits you well.  Not bad.  Not great, but not bad.
Thankfully, we now have digital impression techniques!  This is my absolute favorite new thing in dentistry. Ok, it's been developing for years but they've really got it dialed in now.  We can now take a video of your tooth, which converts into a digital file that is sent instantly to our lab.  With your crown or nightguard what you see is what you get, since it is digital it cannot distort!  All those steps in the Old Way, steps where errors can happen, are gone!  What does this mean to you?  A crown in much less time, that fits beautifully with less adjustment, and with no goopy messes.  The occasional need for remakes is reduced as well.  I can't say enough good things about this amazing technology!!!
                          A note on crowns made in-office:  A few offices use in-office milling machines to make crowns while you wait.  We are keeping a very close eye on these mills, as they continue to improve.   The dentists who use them save a whole lot of money because they don't have to pay anyone to make their crown.  Sure it saves you 4-5 days, but it more importantly saves them MONEY.  For now we feel the quality of the crown isn't there.  Who do you want making your crown; a dedicated lab artisan who is not in a rush and has access to the very best equipment on the planet, or a dental assistant working furiously out of a closet in the back of the office?  With something as valuable as your new tooth 'off the rack' just isn't good enough for us, or more importantly YOU.
This amazing dental technology gives us almost x-ray vision with no radiation exposure. How does it work? By shining wavelengths of light through the tooth, we're able to see all the fine details.
CariVu is completely safe and perfect for our patients who may prefer to avoid x-rays. In fact, it is often more diagnostic than an x-ray for seeing cavities and cracks in your tooth. We are one of the only Boulder dentists to offer this service; we are very, very excited to have added this to the practice!
Gemini Laser
Who doesn't want a dentist who uses lasers?  Not us.  Maybe not even you!  Our dual wavelength laser allows us to toss the scalpel aside and use gentle light to perform an assortment of procedures on your gums with much less pain, better healing results, and no bleeding.  Kill bacteria during deep cleanings, painlessly adjust your gum contour, remove pesky frenums, and more!
Dentistry with Benefits – Kick Back and Relax
Boulder Dental Arts offers much more than just the dental services listed above. Nervous about your appointment? We put your mind at ease in a heated massage chair. We also offer whisper-quiet dentistry, eliminating one of the most dreaded parts of a dental visit. Bored of magazines? We have 1600 movies and 150 television shows for you to enjoy on noise-canceling headphones.  Love the beauty of the Colorado mountain scenery? Just look outside!
What other dental service benefits do we provide? We now use a revolutionary anesthetic reversal agent that allows us to dramatically decrease mouth numbness following a dental procedure. Digital x-rays mean much less radiation exposure than old films. And the mercury from your old fillings is safely separated during removal to ensure it is not released into the environment.
Interest-free financing is available. Schedule an appointment with the best Boulder dentist today!
Gluten-Free Dental Products – Gluten-Free Dentist!

Gluten is hidden in a surprising number of dental products. Manufacturers are finally beginning to recognize there is a need among our Celiac patients – and those looking to avoid gluten as part of their overall health – for alternatives.  We are one of the only dentists in Boulder, CO that offers certified gluten-free products as part of our dental services.  It's impossible to say how much gluten is actually consumed during a visit with the 'average' dentist. But if you live a gluten-free lifestyle, take comfort knowing you're safe with us.
Digital Radiology – Safe X-Ray Technology
The thought of x-ray radiation can be disturbing. We offer our patients the latest in digital intra-oral radiology as part of our dental services. You get crystal clear images of your teeth and jaw with a fraction of the radiation exposure you receive from traditional x-rays.
Additionally, we have the ability to take traditional 'bitewing' x-rays from outside your head. All you need to do is stand there. This is perfect for children, people with small mouths, tori, gagging issues, or those who simply hate having a film or sensor jammed into their mouth – which is most of us.
Intra-oral Pictures – How Your Mouth Sees Itself…
We could talk at you all day about a cracked tooth or broken filling – but you'd probably walk away out of boredom, or fear. But we have high-definition intra-oral cameras equipped in each of our ops. We can show you – in many glorious megapixels – exactly what your mouth looks like from the inside.
Tooth Implant Placement and Restoration – Never Go Toothless Again
Tooth loss is an unfortunate life event.  Whether due to decay, trauma, failed restorations, periodontal disease, or fracture, you may find yourself at a point where you require the replacement of one or more of your teeth. Happily, gone are the days of bridges and partial dentures being the first resort. At Boulder Dental Arts, tooth replacement is easy!
Dr. Patrician can help you fully replace a lost tooth by placing an implant (essentially a titanium root) painlessly into your bone.  Once allowed to heal, a crown is placed over the new root.  This tooth replacement procedure enjoys not only one of the highest success rates in dentistry, but in all of medicine. The full dental procedure – from extraction through implant placement to the final restoration – will be done in-office at our North Boulder location.
All on 4 Implants – A Modern Alternative to Dentures
A few generations ago it was commonplace to have dentures at a fairly early age. You then settled into an accepting life of learning to keep dentures from flying out of your mouth. Because, really, that was your only choice.
In the last 20 years the field of Dentistry has made beautiful technological strides, especially with the arrival of dental implants.  Today we don't want you to consider wearing dentures unless you have implants to support them. For those of us who've lost or are losing our teeth – but hate the thought of an appliance that sits in a dish at night – we have what you may know as "All on 4" implants. For those who've lived with a traditional denture, getting All on 4 implants is like upgrading from a Pinto to a Mercedes.
Speaking more technically, these are fixed, implant-supported hybrid prostheses. Working closely with local surgeons and our local lab technician (both of whom are national lecturers on this new generation of implants), Boulder Dental Arts can outfit you with brand new, solid teeth as one of our dental services. They will literally change your life.
Sedation Dentistry – Be One With the Sheep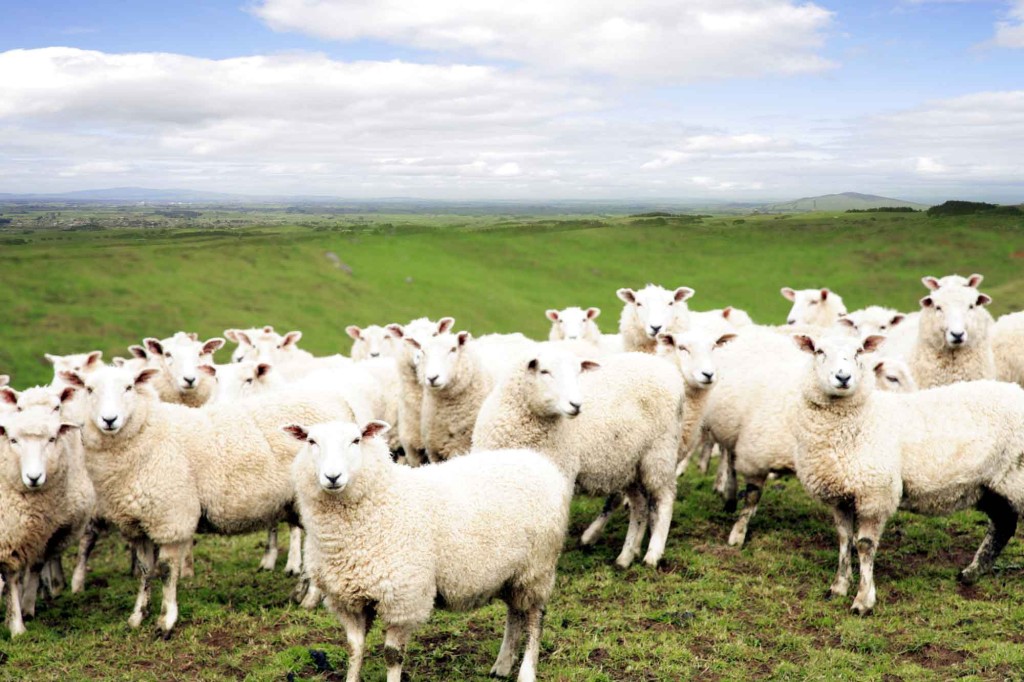 For many of you out there the idea of having dental work done is scary. That is normal! You are facing a mysterious procedure that might hurt, done by someone who is intruding on your personal space by literally being in your face.
And you probably have had a bad experience somewhere in the past that has stuck with you. You may know you need something fixed, but your heart rate and blood pressure go up just thinking about it. Maybe reading this paragraph is doing it already.
Well, how would you like to strip all that away and have a mellow, anxiety-free experience so wonderful you would look back with fondness – if only you could remember it? Sounds fun, doesn't it? Many people pay good money to do this every Friday and Saturday night on Pearl St.
We offer many levels of sedation dentistry to meet your specific needs. These methods are very safe and simple. You are awake and responsive the whole procedure – except you're verrrry relaxed and feeling groovy. Ask us more about our sedation dentistry options for your next appointment!