Our Dental Technology
We take great pride in remaining on the cutting edge of dental technology at Boulder Dental Arts. Our philosophy is if there is something that exists that will improve your experience at the dentist and outcome then we will get it. Plus we love cool stuff!
At Boulder Dental Arts, we utilize a suite of imaging technology for precise diagnostic ability and treatment. We are stoked to offer radiation-free alternatives to traditional dentist x-rays AND laser technology to replace the traditional scalpel!
Microscope Dentistry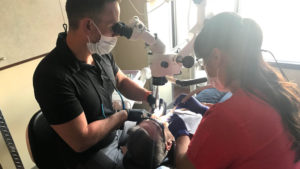 The most recent generations of dentistry have recognized the principle that visualization = better success. If we can see what we are doing we can do a better job. Logic, right? This is why you often see dentists wearing magnifying loupes and headlamps. Those allow us to view your teeth at 2-4x their size, which in turn allows for better dentistry. The majority of endodontic specialists (and a few generalists) have invested in microscope technology, which allows us to now work comfortably at up to 12 times magnification.
3D Imaging Improves Diagnostic and Treatment Ability
3D Cone Beam Computed Topography (CBCT) imaging allows us to take a 3D image of your teeth. Traditional x-rays allow us to look in one plane, now we are finally visualizing your dental anatomy as it truly exists. Planning on an implant? We can see exactly how much bone you've got, and we can combine our CBCT with our digital scanner to create a surgical guide which gives us an exact placement. Voids, defects, nerves, and hidden discrepancies that are invisible in 2D are now right before our eyes, and we can plan accordingly. No more nasty surprises. Click here to learn more about CBCT imaging.
CariVu Technology—The perfect companion to X-Rays
CariVu imaging technology gives us almost x-ray vision with no radiation exposure.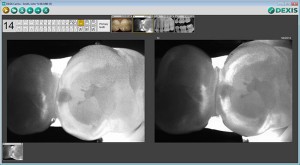 How does it work? By shining wavelengths of light through the tooth, we're able to see all the fine details.
CariVu is completely safe and perfect for our patients who may prefer to avoid x-rays. In fact, it is often more diagnostic than an x-ray for seeing cavities and cracks in your tooth. Boulder Dental Arts is one of the only North Boulder dentists to offer this service; we are very, very excited to have added this to the practice!
Digital Radiology—Safe X-Ray Technology
The thought of x-ray radiation can be disturbing. We offer our patients the latest in digital intra-oral radiology as part of our dental services. You get crystal clear images of your teeth and jaw with a fraction of the radiation exposure you receive from traditional x-rays.
Additionally, at Boulder Dental Arts we have the ability to take traditional 'bitewing' x-rays from outside your head. All you need to do is stand there. This is perfect for children, people with small mouths, tori, gagging issues, or those who simply hate having a film or sensor jammed into their mouth – which is most of us.
Trios Digital Impression Scanning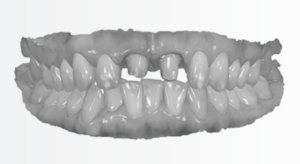 If you have had a crown or nightguard made you are familiar with a technique that involves a lot of goop and mess. That goop is an impression material that makes a pretty good replica of your teeth. Now we have digital impression techniques that are a huge improvement! Click here to learn more about Trios Digital Impression Scanning.
Gemini Laser—For Laser Precision
Who doesn't want a dentist who uses lasers? Not us. Maybe not even you! Our dual wavelength laser allows us to toss the scalpel aside and use gentle light to perform an assortment of procedures on your gums with much less pain, better healing results, and no bleeding. Kill bacteria during deep cleanings, painlessly adjust your gum contour, remove pesky frenums, and more!
Learn more about our dental services. Book an appointment at Boulder Dental Arts, your favorite North Boulder dentist.