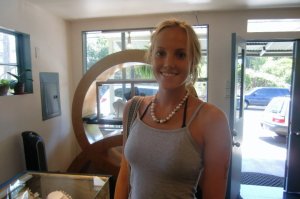 Jill is our in-office aquatic education specialist. As an infant she was swimming before she could walk (albeit at a somewhat underwhelming 1:42/100m,) was on CU's team, and now teaches Masters classes locally. Jill has a BS in Integrative Physiology with plans to follow a path in the medical field, with her first surgical experience involving 8 sutures removed from her youngest brother's shoulder at ten. Her exposure to Dentistry is opening new doors and windows and skylights which will hopefully guide her into a lifetime of teeth.
Jill grew up in the volcanic archipelago of Hawaii. Unfortunately they don't do the thing with the flowers when you get off the plane. We're assuming this is a TSA issue. It is sad, as the airport used to smell like flowers. Maybe they can pump in the flower smell?***** Hawaii does not participate in Daylight Savings Time.
***UPDATE*** It has come to BDA's attention that they in fact still do the flower thing in Hawaii. Please forgive our error.